It's hard to believe that my child once clung to me for dear life. For nearly twelve months I carried Emerson with me. In my arms or a sling. Everywhere. All day. No matter what. She was nervous, skeptical, fearful even. She needed to feel my skin on hers, hear the sound of my breathing and heart beating close to her. And I approached her needs with the solemn promise to do my best to fulfill them all until they no longer existed.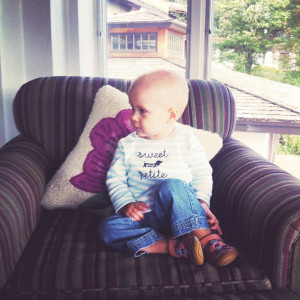 Well, they don't exist anymore. For the most part.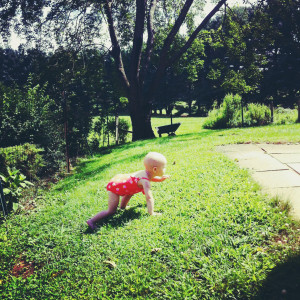 Now Emerson bursts into a room, ready with a smile, a million half-intelligable words to offer, and a furious amount of curiosity. She takes off without even looking back to make sure I'm still there. She has things to do and people to meet. She is extremely busy, and gets so overwhelmingly excited about what she's experiencing that she sometimes transcends beyond a state of jumping and squealing and laughing to what appears to be a very serious and subdued state. (I recognize this extremely-excited-but-can't-show-it-because-I'm-too-excited state because she gets it from me).
And then, because we are deep in the throws of toddlerhood, it all changes…like that.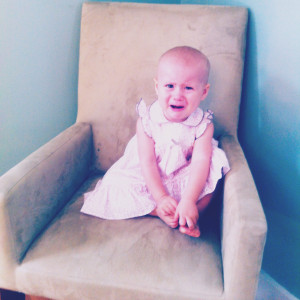 There are tantrums, insistent demands, and whining that grates against my patience quite frequently. Yet, I feel lucky. Because, we push through all those challenges fairly quickly and get back to being awesome again. At least for now…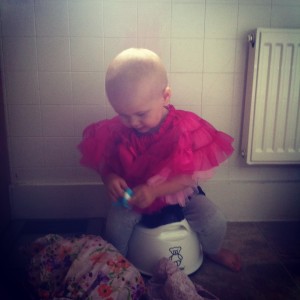 Right now I am in love with all the little things that make Emerson… Emerson. Like the loud, surprised "ohhhhh!" she lets out whenever she sees something that looks interesting (which is about 57 times a day). And the way she already plays pretend….giving her dolly and stuffed animals baths, drying them off, combing their hair, then putting them night, night just like we do with her. Or her fascination with watching cars, or "beeps" as she calls them. And the way she likes to hold my hand while we stroll the neighborhood collecting falling leaves (and we must be holding hands). Ah, and the times it's really quiet and I think I'm going to find Emerson doing something naughty, but instead I catch her sitting on her bed "reading" books out loud to herself or making her stuffed animals kiss each other on the lips.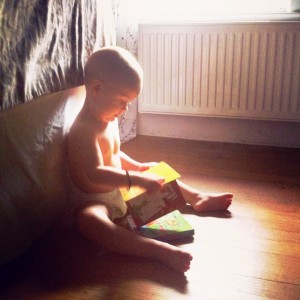 The love only grows stronger.