I sit in a darkened room with a warm sleeping baby against my body. I feel his chest rise and fall, the softness of his fuzzy blanket draped over us, as we listen to sound of white noise and my shushing. As I lean down to kiss his head beneath my chin, I try to permanently lock every bit of this moment into my heart, never to be forgotten. This is a sacred space, one that I will someday plead with the Universe to let me return to. I am 100% certain of that. Yet, I often sit here and simultaneously feel grateful in love while also thinking: I really….really miss myself.
Because, you see, most of my day seems to happen here, in nap land. The rest feels like flashes that barely happen— a lighted hallway, the noise of dishes clanking over a meal, the cold air slapping my cheeks as I load the kids into the car, my older child playing make believe, the buzz outside the window that reminds me that life continues on somewhere else. Time just evaporates in this land of baby. And I mostly forget that I was once somewhere else….someone else.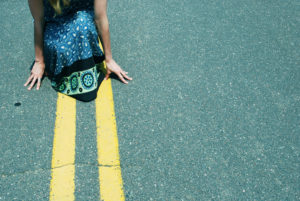 Yes, somewhere among the sleep deprivation, and struggle to divvy up my attention in 945 directions, I lost myself. I am dizzy and disoriented by all the soothing, the wiping, the nourishing, the holding, the nagging, the worrying, the shuttling to and fro. Every day is an attempt to "catch up" so I keep putting off "me" until that happens. And regardless of any inner, or outer, wisdom I may hear, I keep pushing to get to that imaginary point that will never exist. Every day. Stubbornly, and irrationally.
Some of the time I feel like I'm in some sort of groove and just on the cusp of reaching this place that I dream of. And some of the time I want to scream/cry/fall to the floor in prayer as I feel myself falling apart…inching farther and farther away from ever having a normal life again.
But, as I sit here, cradling this sleeping baby today, I hold onto the memory of how I did eventually, albeit slowly, reclaim my SELF after the birth of my first child. I remember that eventually I started escaping to the coffee house down the street to read, or write, or stare at the wall while no one talked to me. I remember that I eventually started wearing makeup, and something other than tattered yoga pants every day. I remember that date nights actually existed, and I didn't pass out at 7 pm. I remember that I saw my friends more, answered emails before 476 days went by, no longer lived life as a slave to nap time….and just felt a little bit of space around myself to breathe and just be ME.
I also remember that at no point have I EVER regretted all the hours, months, years that I spent holding my first born while she slept. Never have I regretted all the things I gave up, or that period of time when I wasn't quite myself. In fact, I feel most fulfilled when I see the present day evidence in my almost 5-year-old of all the snuggles and sacrifice.
And so, I continue to sit in this dark room of perpetual naps, regardless of my unwashed hair or (temporarily) forgotten ambitions. I know that as a mother, I will always feel pulled. All I can do is focus directly in front of me, and find peace in my choices….knowing that they are the right choices for me, in this moment. All I can do is be with the beautiful mess that surrounds me, because it will all change and leave me yearning much sooner than I feel ready to let any of it go.