Let me start at the end, because the end is what we're all after. I taught my twenty-two-month old how to sleep up to twelve hours in a row after nearly two years of waking every one to two hours. That is a drastic change! And it is something I never thought would happen given my child's high needs nature.
So, let me set up some parameters before I dive into my plan. First, it's important to know that this plan was devised for older babies. Emerson was twenty-two-months old when I night weaned her, and though I think I could have done this a lot sooner than that, I cannot speak to night weaning a child under the age of one. It may also be relevant to note that I night weaned while co-sleeping as I felt it would be easier, and quite frankly I am not ready to stop sleeping with my child yet (though she does her own sleeping space next to our mattress that she uses part of the night)…I just wanted some sleep while doing so. But, I think this could work with other sleeping arrangements, too.
If you haven't already read my 5 tips for night weaning, please do that first! Those tips were the keys to the success of night weaning my child and are really Step One of my plan.
Lastly, I devised this plan after reading and considering two other gentle plans—visit here, and here. I am not a sleep expert—I am simply a mom who put a lot of thought into the way I night weaned my child and wanted to share my ideas in the hopes that it helps someone else out there!
So, as I said in my 5 tips for night weaning, pick a date ahead of time to start this plan when you have time off of work (for at least a couple of days) and the help of your partner. It's important to be prepared, do as much reading up on night weaning as you can, discuss with your partner, and do one or two months of prep work with your child (also discussed in 5 tips for night weaning). I know I keep saying it, but the prep work is key! I think the actual weaning part was so fast and painless, because I put the effort in ahead of time to make it super gentle.
Okay, here we go. It's really quite simple. Choose a seven-hour window of time that you would most like to sleep during (this is the part that is based on Dr. Jay Gordon's method). Remember that the definition of sleeping through the night usually only means five hours of consecutive sleep so seven hours is technically a lot more than that. But, between you and me, when I think "sleep through the night" I mean (and want!) the whole darn night. So I went back and forth about this seven-hour window. Shouldn't I just cut her off from the time she gets in bed until she wakes in the morning? Isn't it confusing to her that she gets to nurse during some hours at night, but not others?
Here's the thing, Emerson had never gone more than a few hours without nursing ever. I wanted her to naturally ease into going the entire night without a snack so she could adjust and learn to eat more during the day rather than freak out and feel like I was starving her. And I just wanted to be gentle on her, emotionally speaking. So, I stuck with the seven-hour window. I chose 11 p.m. to 6 a.m. because being woken up (and then not being able to fall back asleep…sigh) at 4 or 5 o'clock in the morning was killing me. I was fine getting up at 6 as long as I got some solid sleep before then.
So, you have your seven-hour window. Any time your child wakes up before that window, nurse or comfort her as usual. If it's 10:57 nurse, if it's 11:03 don't. It's easy to slip and keep on slipping when you aren't specific about the time. And the morning time can be especially hard, because that little one is going to be begging for milk at that point. But, I made Emerson wait until exactly 6 a.m. unless she was seriously starving and flipping out at say, 5:50, which really didn't happen.
Don't fret too much about this specific window becoming something you will later have to change. It is a teaching mechanism and will naturally disappear over time. I'm sure it's different for every child, but Emerson stopped waking between 7:00 (her bedtime) and 11:00 after about two weeks and now she never asks me to nurse after she's gone to bed at night. She learned to sleep more deeply, and no longer needed me in order to fall back asleep so she dropped that window of nursing time on her own.
Okay, now it's 11:01 p.m. and your child wakes. Hug her, cuddle her, pat her back (whatever form of comfort she accepts) and repeat your mantras (remember to come up with those mantras beforehand!), but do not nurse. There will most likely be a lot of bargaining on your child's part. Stay calm and confident, and just repeat your mantras. There may be some crying. Comfort, hold and repeat your mantras. Know that even if she's crying, she really does know that you are there for her and she's safe, because you are actually holding her and doing a very thorough job of comforting her, just in a new way. She's sad about this change, but she will learn to be happy with it soon.
Continue to do all this until she falls back asleep (comfort and mantras), and repeat any time she wakes up before 6:00. I wanted Emerson to understand the concept of the num nums (our word for nursing) going night night and then waking up with her in the morning so I made sure she would know when exactly num nums were awake. I set my alarm for 6:00 and turned the light on immediately (since it was still winter and dark outside). She caught on quickly that if the light wasn't on, she still needed to sleep.
A lot of night weaning plans involve a slightly different technique every few nights during weaning (tapering off the comfort) in the hopes to eventually teach the child to sleep through the night. This was the part of every plan that made me uncomfortable. If that appeals to you, go for it! For those of you who want to be ultra gentle but still teach your child to sleep through the night, have faith that teaching your child this new routine will nudge him/her toward more independence on their own timetable.You don't necessarily have to force it all in order for it to happen. Personally, I did not want to nurse at night anymore, but I didn't feel totally opposed to cuddling or comforting—just having my body to myself was a significant gain in my eyes. This is why every night of my plan is the same.
What I found was that both parties (the child and the mother/father) naturally separated more and more every night without forcing it. I was so exhausted from being up all night (yes, weaning is exhausting) that I naturally offered less and less complicated forms of comfort—I started out singing, patting, holding, and repeating several mantras and then it was just holding and a couple of mantras, then just a hand on her back and one mantra, then nothing but simply being there for her to lie next to. That was a mutually agreed upon (but subconscious) progression that led to more independent sleeping in just under two weeks. I offered less mostly because Emerson was asking for much less every night until she was asking for nothing in order to fall back asleep.
Given I had already taught Emerson to self-soothe in a very gentle manner at a time when she wasn't simultaneously being night weaned, she caught on very quickly when nursing was no longer an option. She felt safe and comforted in other ways so she relaxed into this new routine and tried something new (sleeping!).
Some important things to consider…make sure you are really ready to do this. To be effective you need to go in a straight line. Your child is looking to you to provide consistency and guidance so he/she can learn a new routine. It will be confusing and makes things much harder if you give in and then try to stick to it, over and over. However, if you start to night wean and it just doesn't feel right or you don't like your child's reaction, stop! You can always try again in a month or so. A good way to gauge this is to watch your child's behavior during the day. I was encouraged and able to continue with this plan, because Emerson woke up so happy, and actually more loving than ever, in the morning while we were night weaning. Our relationship did not change at all. There was no added clinginess, fear, or resentment on her part.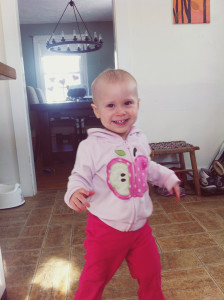 Lastly, as Dr. Jay Gordon says…pay your baby! You are asking that she give back a little to the family that has been sacrificing for her sake for so long, now that she's giving back to you pay her with all the extra energy and enthusiasm you have now that you are getting some Zzz's! And to ease the transition during the first few weeks (or longer, if you wish) nurse her more throughout the day so she feels secure in that source comfort still being there. Good luck!
Come back tomorrow for my night weaning journal—exactly what those seven days looked like for us. And on Friday, all the bonuses that were gained as a result of night weaning.