Just as soon as I became a master of food deception, my suddenly and extremely picky toddler decided that she would once again eat all the superfoods I could throw at her. But, that little window in which I feared my child's health would suffer taught me so much about adding nutrition to food without sacrificing taste. One such addition to Emerson's diet that has become a big part of our afternoon snack routine is a healthy smoothie.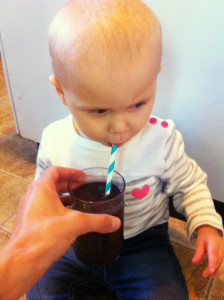 This smoothie is sweet like juice but is chock-full of calcium, antioxidants, fiber, omegas, potassium, probiotics, protein and much more!
P.S. It's great for kids of any age and adults, too!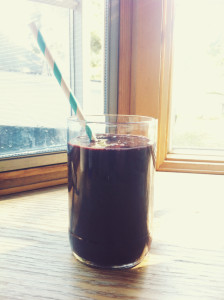 Secretly Nutritious Smoothie
Ingredients:
1 banana, cut into several slices
1/2 cup strawberry yogurt (I use a combo of strawberry coconut milk yogurt and sunflower milk to make it allergen-free, a little less sweet and to add some extra nutrients)
1 cup frozen blueberries
2 cups, loosely packed, baby spinach leaves
1 tbsp flax meal
Directions: Blend and serve. Fun straw recommended!
Additions: You can easily change up the fruit, sub kale for spinach and/or add extra nutrients with things like a handful of chopped almonds or chia seeds.